Giving Back To Local Veterans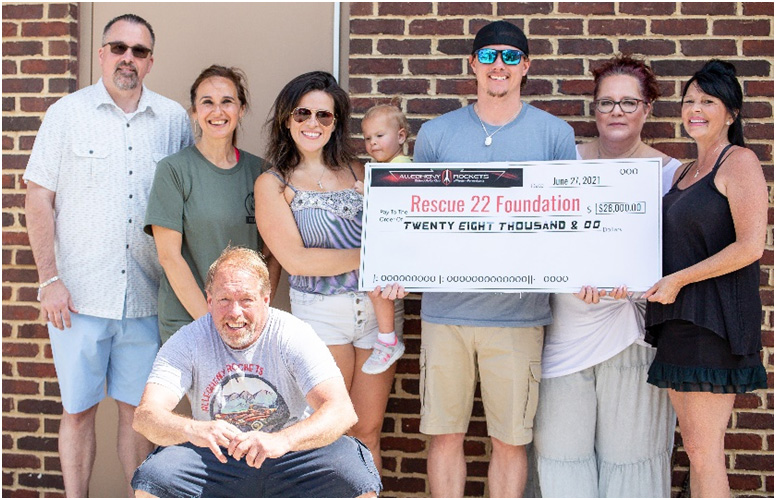 A Classic Car show and summer bash was held in South Park to raise monies to purchase a service dog for a local veteran in Bethel Park. Partnering with the Allegheny Rockets, McKibbin Consulting was the main sponsor for the event that raised $28,000 for the Rescue 22 Foundation.
Rescue 22 Foundation was co-founded by Angela Connor, the daughter of a Vietnam Veteran. The 22 stands for the 22 veterans we lose to suicide a day. The dogs are an important tool to combat depression, anxiety and other challenges associated with PTSD.
For every dollar raised $ .97 of that goes to the foundation and not overhead. Those involved in the organization are all volunteers who have either served in the military or are somehow drawn to the cause. Training costs for each service dog runs $25,000. Unlike other organizations, Rescue 22 matches the appropriate dog to the veteran's needs and train them in the support before presenting the service dog to the veteran.
The Veteran Service Dog Trust [VSDT] fulfills out foundation's primary mission in order to provide the highest quality task trained dogs on behalf of our nation's veterans. Our foundation provides psychiatric, mobility and medical service dogs to our veterans at no charge and without geographic restrictions. Service dogs that meet the needs of veterans diagnosed with Post Traumatic Stress remain our most requested type of dog. The VA does not provide funding for service dogs for PTS, TBI or other non-mobility diagnoses at this time.
Generous donations from our supporting individuals, companies and sponsors provides for the following services that make our life-saving dogs possible:
• Training (the average service dog trains for over a year)
• Animal care including food, veterinarian services and grooming
• Service dog and handler equipment
• Handler education
• Service dog and handler integration
McKibbin Consulting is proud to support our local veterans in this cause as there are currently 10 veterans in the Pittsburgh region on a waiting list for a service dog. To learn more about how you can support Rescue 22 Foundation, contact Angela Connor at 302-272-8029 or email [email protected].
Testimonials
Jill is fearless!  She has the unique ability to get a connection to anyone.  Jill is a great matchmaker, putting together professionals in the building profession with clients with projects.  She is personable, dedicated and loyal.