Client Spotlight – Green Seven Technologies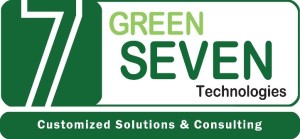 Green Seven Technologies is a IT Managed Service Company. Unlike other technology companies, our philosophy is different in that we are proactive in our management of the clients whose technology programs we manage. Our managed IT service program is an All-Inclusive program model with a fixed monthly fee. We work with a number of government entities, architects and engineering companies that have multiple locations and large data files.
Larger organizations that have an IT department already in place take advantage of the company's co-managed program. Green Seven Technologies will work hand in hand with your internal IT staff allowing for depth in IT coverage, as well as the ability to handle day-to-day patches and updates, allowing the internal staff to focus on projects.
By using this type of program, our clients have realized up to 40% savings through system upgrade efficiencies, GUARANTEED 7 minute response, and our 24/7/365 advanced remote monitoring program. What this means for your organization is a direct contact to the technicians who work on their systems, no waiting for hours until a person calls back.
Due to increased vigilance in hackers attempting to access your system, the Business Disaster Recovery Program offered by Green Seven Technologies is different than the normal file backup. This service backs up not only your files, but the company's operating system and employee profiles as well. In the event of a disaster, your system can be remotely accessed in minutes versus hours or days.
Many of our clients rely on us to help guide them in understanding various software packages and assist their organization in determining the best option for current and future needs. We have built our reputation on a GUARANTEED 7 minute response and currently have multi-year contracts with a number of clients. For a free network assessment and to learn more about Managed IT Services, contact Jay Markey.
Testimonials
Jill knows just about everyone in our region that is in the A/E/C industry. She truly enjoys making connections happen for people to do business together.