Client Highlight – Dagostino Electronic Services, Inc.
Dago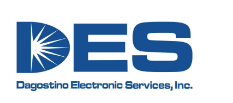 stino Electronic Services, Inc. is a Pittsburgh based company that designs, sells, installs, and maintains information communication technology systems for voice, data, security, IP surveillance, multimedia, fiber optics and structured cabling. Since 1973, DES has implemented innovative and effective solutions for K-12 and higher education, small businesses, large corporations, manufacturing and government.  While partnering with end user customers, as well as contractors, architects, and design firms, DES merges technology from premium providers with comprehensive service and support to give customers the most advanced hardware, software and service solutions that address their technology needs.
As the preferred technology provider for the Pittsburgh Steelers, DES implements everything from the stadium's cabling infrastructure to telephony and data needs to multimedia and wireless.  Recently the stadium underwent a multi-million dollar wireless upgrade to provide a custom experience to stadium guests.  DES was also an integral part of the South End zone and Champions Club addition, providing cabling, fiber, and multimedia services.

Data Centers are the lifeblood of any organization's data.  DES utilizes best practices in design construction to support customer relocation of equipment from multiple sites and applies green technologies to help to reduce carbon footprint.  The company holds LEED-AP certification and is staffed with five BICSI registered communication distribution designers (RCDD).
Whether you seek a standard telephony solution or one that converges voice, data services, applications or multimedia, a DES solution can be the foundation for the continuing success of any size organization providing end-to-end solutions for your company to accomplish its technology goals.
Testimonials
Jill is a tenacious business development person. Her ability to find leads, contacts and work is incredible. I am continuously amazed at her ability to make things happen.