Client Spotlight

Owned by Wendy Staso, Huckestein Mechanical Services is the only certified woman-owned and operated mechanical contractor serving Western Pennsylvania, eastern Ohio and Northern West Virginia.
The company designs, builds, services, and maintains non-residential HVAC systems, efficiently moving projects from concept to reality and services from reactive to proactive, optimizing our customers' investment in and ownership of valuable mechanical assets.
Huckestein Mechanical Services' NO CHANGE ORDER PROMISE…For mechanical renovation or replacement projects, regardless of size, engage Huckestein first. When we are the single point of contact, from identifying a need to project through design, engineering and installation, our brand promise is that, under no circumstances will there be change orders within the agreed upon scope of work. This eliminates unnecessary layers of costs, delivers a streamlined process for enhanced project quality and cost savings. Our promise is unique to the industry, so why would you choose any other delivery model for your mechanical project?
Whether it's an energy conservation measure (ECM), a capital improvement project, or a simple rooftop replacement, at Huckestein we believe that an integrated approach to designing and constructing projects leads to high quality, cost effective, and timely outcomes.
The foundation of a comprehensive service program is Planned Maintenance which is preventive, predictive, and proactive. Planned Maintenance is simply the care and servicing required to maintain equipment and facilities in satisfactory operating condition by providing for systemic inspection, detection, and correction of emerging failures either before they occur or before they develop into major defects.
With a strong history of providing state-of-the-art, real world solutions to the challenges facing today's businesses in terms of energy optimization, sustainability, and environmental awareness, Huckestein is poised to guide our clients to savings.
Since 1978, Huckestein has been partnering with our customers to help them increase the return on their building investments. Through our SERVICEPLAN™ platform, Huckestein provides HVAC service and maintenance to more than 250 institutional, commercial, and government facilities throughout the tristate area.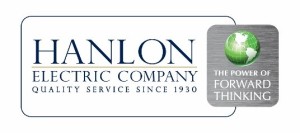 Since 1930 Hanlon Electric has been known for providing high quality service throughout the Pittsburgh region and beyond.  Hanlon Electric Company is a full-service electrical contractor providing service and maintenance, infrared and power quality testing, new construction, construction renovations, design/build construction as well as data and communication cabling and testing.
Power Management Plan for Phipps Conservatory
Many of you have visited Phipps Conservatory and marveled at the spectacular Winter Light Garden display.  The Phipps team worked with Hanlon Electric to design a robust power management plan and install many of the structures. Phipps met with our journeymen on a weekly basis during installation to review designs and assess the installation progress. This beautiful garden of lights was achieved through the collective collaborations with artists, fabricators and electricians.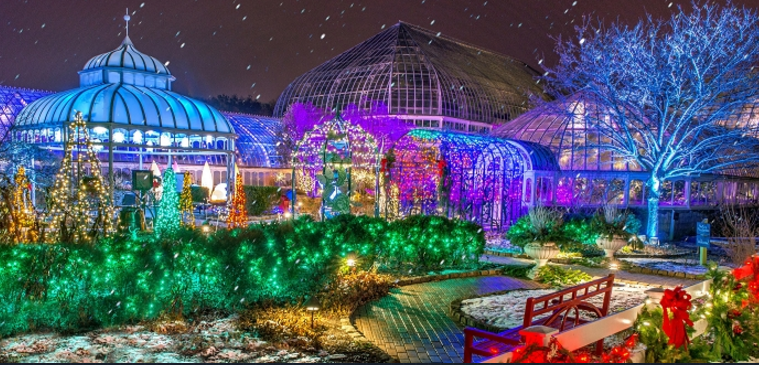 Hanlon Electric specializes in servicing the following industry segments: Commercial/Industrial Construction; Telecommunications, Schools, Universities, Colleges, Theaters and Public Institutions, Hospital and Medical, and Marcellus and Emerging Energy Companies.
A leader in Safety, Priority Service & Building Maintenance, Hanlon Electric provides skilled electrical system service, repair and maintenance by highly trained staff.
Through the "Power of Forward Thinking," Hanlon bridges technology and energy efficiencies to proactively minimize downtime. The company offers energy audits and assists customers in finding the best energy solution for their given organization.
There is a concerted effort to deliver green energy solutions for our environment.  In response to growing public interest in alternative vehicles, Hanlon has installed numerous electric vehicle (EV) charging stations (EVCS).
For three generations, Hanlon Electric has stood the test of time and delivered.  Companies have come to rely on the expertise of Hanlon Electric.
Dago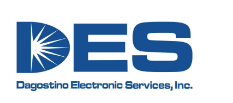 stino Electronic Services, Inc. is a Pittsburgh based company that designs, sells, installs, and maintains information communication technology systems for voice, data, security, IP surveillance, multimedia, fiber optics and structured cabling. Since 1973, DES has implemented innovative and effective solutions for K-12 and higher education, small businesses, large corporations, manufacturing and government.  While partnering with end user customers, as well as contractors, architects, and design firms, DES merges technology from premium providers with comprehensive service and support to give customers the most advanced hardware, software and service solutions that address their technology needs.
As the preferred technology provider for the Pittsburgh Steelers, DES implements everything from the stadium's cabling infrastructure to telephony and data needs to multimedia and wireless.  Recently the stadium underwent a multi-million dollar wireless upgrade to provide a custom experience to stadium guests.  DES was also an integral part of the South End zone and Champions Club addition, providing cabling, fiber, and multimedia services.

Data Centers are the lifeblood of any organization's data.  DES utilizes best practices in design construction to support customer relocation of equipment from multiple sites and applies green technologies to help to reduce carbon footprint.  The company holds LEED-AP certification and is staffed with five BICSI registered communication distribution designers (RCDD).
Whether you seek a standard telephony solution or one that converges voice, data services, applications or multimedia, a DES solution can be the foundation for the continuing success of any size organization providing end-to-end solutions for your company to accomplish its technology goals.
Testimonials
Jill is a tenacious business development person. Her ability to find leads, contacts and work is incredible. I am continuously amazed at her ability to make things happen.